Samarthanam's Higher Education Initiative :
Be our Partner to support 100 youth in 2024
Disability Statistics – According to census of India, There are 27M persons with disabilities. In which 52% are males and 48% are females who constitute 2.21% of total population of India. There are 73L youth with disabilities between the age group of 15 to 29 years constitute 27.5% of total population of the country. In Karnataka, there are 13L persons with disabilities which include 52% male and 48% female. And there are 3L youth with disabilities in Karnataka. 50% youth are eligible for higher education
We are aiming to support 100 youth with disabilities in 2024 from across India
It is a response to several key issues revolving around people with disability in India.
Exclusion, social stigma, lack of access to education and livelihood opportunities, present a huge barrier to the integration of People with Disabilities (PwDs) into the mainstream.
Through this project Samarthanam's effort is to address all these issues and make the disabled youth come under a protective roof where they can enjoy their rights leading to a better future for them.
$600 provides the following for 1 entire year for 1 child : 1. College admission and Tuition fees 2. Clothing, Uniforms 3. Books & Stationery 4. Assistive Aids for different disabilities. 5. Access to computers and educational aids. 6. Nutritious meals & safe / secure accommodation.
Each year, 100 youth with disability will be supported to complete their higher education
All of them will be provided with quality residential facilities with free food and accommodation
They will be galvanized to take actions and make decisions for their future
Exhibit improved interpersonal relationship through life skill/soft skill training
Reduced economic burden on the parents and family members
Upgraded skills in computer and technology to enable them to avail online courses, e-commerce, banking thus to become more independent and are ready for job placement.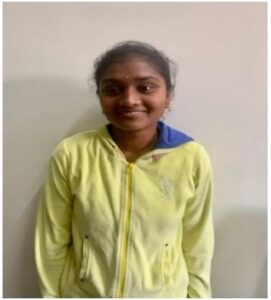 Manjula, 18-year-old girl hails from Gulbarga city, in northern Karnataka. Manjula's family migrated to Bangalore long ago in search of livelihood. Her father Lakshman is a daily wage laborer and her mother Shobha is a homemaker. She has three siblings, an elder brother and two younger sisters, they are presently studying in 8th and 10th standards. Manjula has been part of 'Samarthanam Trust for the Disabled for the last 2 years Manjula was not blind by birth; she was suffering from 'Optic nerve atrophy', a damaged condition to the Optic nerve; that later caused the vision to dim completely over time. Till 1st standard her vision was good; then her vision started impairing. But determined Manjula was not ready to accept her destiny; she was one of the bright students of Sri. Rakum School for the Blind, Bangalore and she secured 95.2% marks in the Board examination. She is currently pursuing her second year Pre University Course at the BES College, Bangalore.
She enjoys watching Chinese dramas and Kannada movies with her roommate Nagashree, she loves listening to Kannada music and also to dance. She prefers outdoor games over indoor games, and her favorite games are kho-kho, Kabaddi, Volleyball and Shot put. She navigates through the games via claps and visual sounds. She is an outgoing individual with a charismatic persona. Manjula is
proficient in Kannada and English languages; she can also understand Telugu, Tamil and Hindi languages. Her favorite subject is Sociology; it helps her to understand the patterns of social relationships and aspects of different cultures associated with everyday life.
Manjula is recollecting those difficult days; immediately after the loss of eyesight, she felt helpless and vulnerable. Learning Braille was a challenging experience but it is her determination which helped her to overcome those obstacles. She is motivated by her father; he motivates, encourages and uplifts her to become a fair and just individual. She is also motivated by Samarthanam's Higher Education Staff.
Manjula is driven by a strong desire to help the underprivileged and the deprived after she starts earning in her life. She is grateful to Samarthanam for providing all the academic support and facilities like free accommodation, nutritious food, Braille books, and other study materials. She aspires to be a successful lawyer in future.


Mahesh Bharti a 25 year old youth, belongs to old Kauthala, Nanded district of Maharashtra.
His father Vishwanath worka as a Cook. His mother, Kantabai is a homemaker. Mahesh is Visually Impaired since birth. He is 100% Visually Impaired and has problems in moving around. thus had to face many challenges right from birth. He is the only son for his parents.
Mahesh recalls staying in his childhood where he had faced struggles to get educated due to distance and lack of
transportation. So, his parents decided to enrol him in residential
special school. He completed Class 1st to 7th STD in Blind School
Deglur, & completed Class 8th to 12th Std in Manav Vikas High
school & Junior College, Deglur.
In School & College level he participated various competitions like reading, debate, and Chess & got many Certificates. He scored 60% in SSLC & 59% in HSC, Maharashtra Board Exams. He loved reading since childhood. Mahesh met Pune Higher Education Coordinator from
Samarthanam during the latter's visit to Sir Parashurambhau College Pune. Mahesh got the entire information of Higher Education Program support exclusively for disabled students. The program coordinator assured Mahesh that Samarthanam Trust would support for his higher education. Accordingly Mahesh was very happy because he had found a way and basis to fulfil his dream, Samarthanam supported Mahesh's higher education by providing college fees, books, study Materials, college bags, free accommodation, and nutritious food and also took care of his medical expenses. Mahesh owes his success to Samarthanam Trust for giving him financial support for his education. 
Subsequently Mahesh took admission in the prestigious Sir Parashurambhau College in Pune where he completed Graduation & Post Graduation. His special subject was Economics. During COVID 19 pandemic crisis, Mahesh had a lot of issues since the physical classes were stopped and virtual classes started. He did not have a Smartphone because his education was online; that time Samarthanam trust provided Tablet & Pen drive for his online study also provided dry ration kit to his family. He completed post graduation in 2020 & he got 57%. While studying for post graduation, he has also completed other courses like Basic Computer & Internet
Accuracy in NIT foundation, Bangalore. After completing his degree, Mahesh started appearing for competitive exams like IBPS, PO, IBPS Clerk, and SBI Clerk etc. He had been taking competitive exams for three years in a row but did not succeed, yet he did not give up. Mahesh always says "Believe in Yourself" He was determined not to give up, no matter how many failures. Mahesh gave the Reserve bank of India Assistant exam, he passed the exam with good marks & his efforts never went in vain. He got a call from RBI and was informed that he was selected for Assistant (Class- III) post. He got appointed in RBI-Mumbai bank as an Assistant (Class-III) in July 2021. Also, RBI bank provide him quarters in RBI Bank colony, Byculla, Mumbai.
To quote in Mahesh's own words, "I made mine and my parent 'dreams come true'…, Many thanks to all those who have helped me to complete my education so far, and especially to Samarthanam Trust for the Disabled for its integral support."