Samarthanam USA, India Association of Greater Boston(IAGB) & Juju Productions are delighted to announce a mega-musical event - NAZRAANA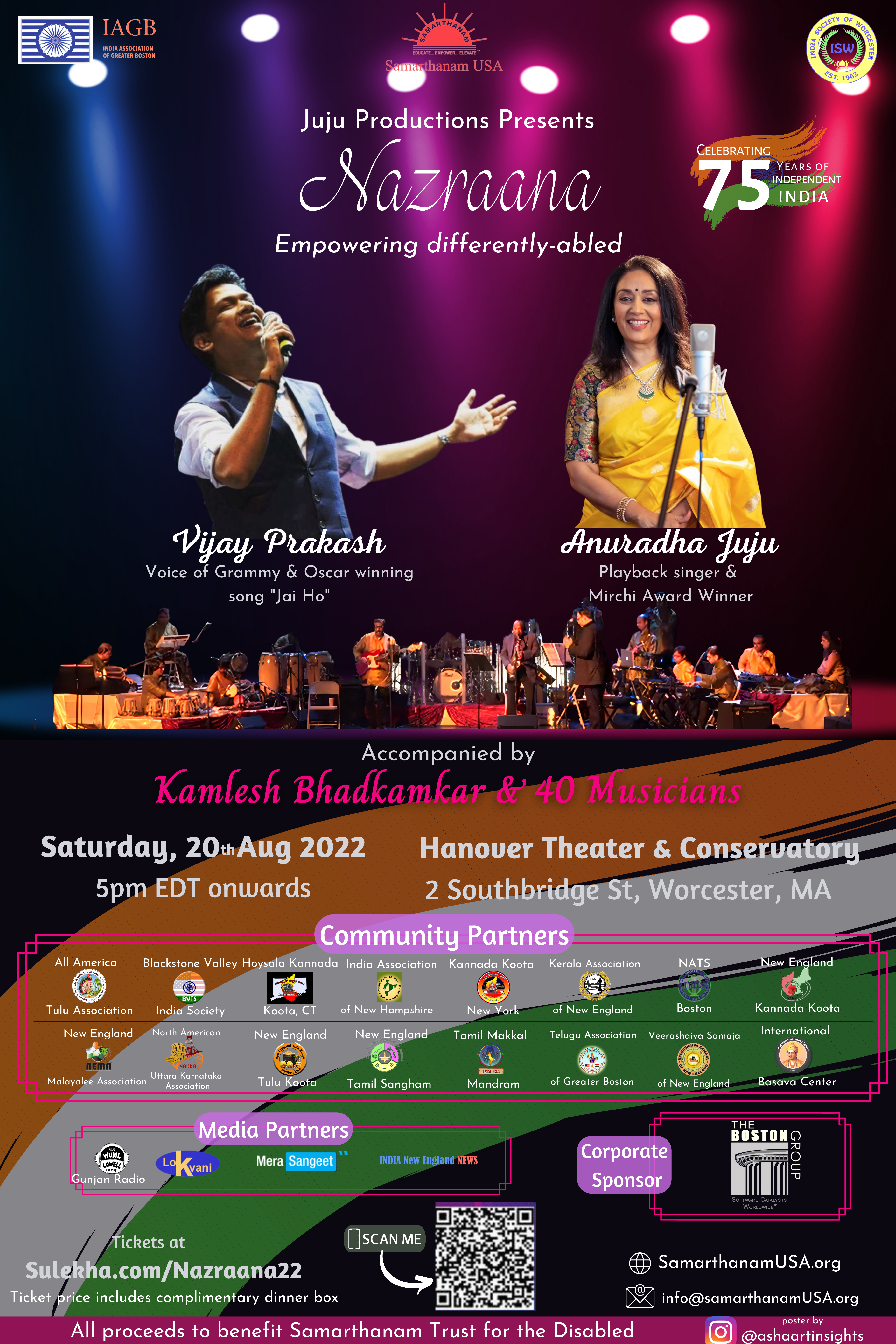 The concert features maestro Vijay Prakash – the Oscar & Grammy winning song vocalist and winner of multiple Filmfare awards, along with the Indian Nightingale of New England and Radio Mirchi Award winner, Anuradha Palakurthi.
Flying in exclusively for the event is a band of 40 musicians from India led by Kamlesh Bhadkamkar.
Bostonians will fondly remember the team from its earlier Anuradha Palakurthi concerts that celebrated the works of Madan Mohan in 2014, R D Burman in 2015, Bollywood singers in 2016 and BITS Pilani in 2018.
Vijay Prakash said, "It's an honor to be associated with such wonderful minds and hearts.
Samarthanam is doing transformational work by skilling, empowering and changing the lives of differently-abled people. I am also thrilled to be sharing the stage with Anuradha ji for a live concert for the first time – our earlier concert was online. Performing with the grand band of musicians from Mumbai led by Mr Kamlesh Bhadkamkar is the icing on the top. Boston music lovers – be prepared for a spectacular treat. I am looking forward to a great musical evening".
Anuradha Palakurthi added "Vijay Prakash is easily the favorite singer of the Palakurthi family, led by my mother-in-law who watches every one of his TV shows. Working with Kamlesh's team – the best from Bollywood – and at a concert of this magnitude will be a very special treat for me and will mesmerize the audience".